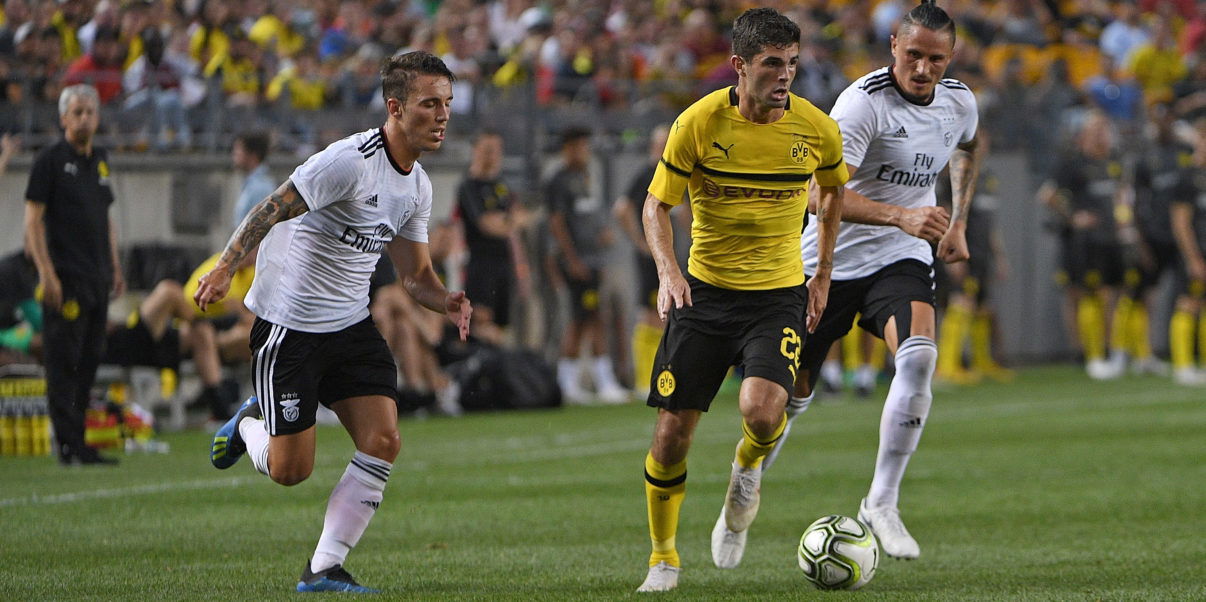 Philipp scores twice as Dortmund fall to Benfica on penalties
Borussia Dortmund finished up its tour of the United States on Wednesday night, falling to Benfica in penalty kicks, 4-3, after a 2-2 tie at the end of regulation in an International Champions Cup preseason match.
The story, however, was, of course, Christian Pulisic, who started and played the first half. Pulisic didn't get on the scoresheet, but his impact didn't go unnoticed as he had the fans ooh-ing and ahh-ing at his every touch of the ball at Heinz Field.
It was a homecoming of sorts for the American winger, who capped off his 2018/19 preseason tour in his native country in Pittsburgh, Pennsylvania, a 346-kilometre drive from his hometown in Hershey, Pennsylvania. Pulisic's father, Mark, is also an assistant coach with Pittsburgh Riverhounds SC of the United Soccer League.
Pulisic got better as the game went on, with his last touch being his most impactful. Benfica's Alejandro Grimaldo and a teammate had Pulisic contained, or so they thought, about 40 yards from goal on the right side. But Pulisic found a way to beat both players, get inside the 18-yard-box, take a touch slightly back out wide to get some additional space, and whip in a low cross that was just a step ahead of Maximilian Philipp around the penalty spot.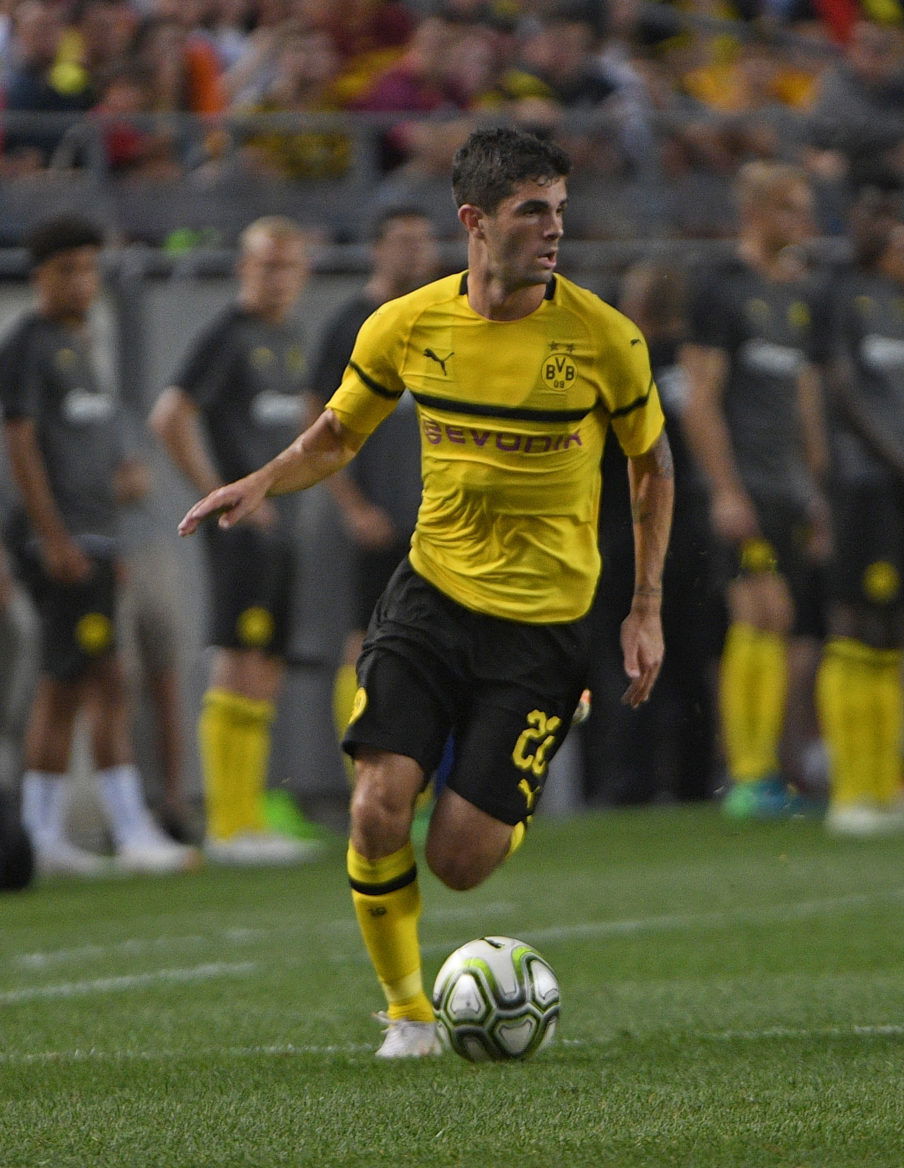 Pulisic was subbed off at halftime, ending his tour of America with two goals and an assist in three games. Oh, and he also drew a pair of penalty kicks.
"Ah, it's crazy man. In the U.S. it's unbelievable to get all this support," Pulisic said to PennLive's Jacob Klinger before getting on the team bus to depart the stadium. "I never dreamed of that."
Dortmund led 2-0 at halftime, with goals by Philipp in the 20th and 22nd minutes.
Benfica — who in the first 10 minutes of the game looked like a fresh team that hadn't played in nearly two weeks (that is, before Dortmund got going) — got on the board in the 51st minute when André Almeida got on the end of a nice pass and found the back of the net.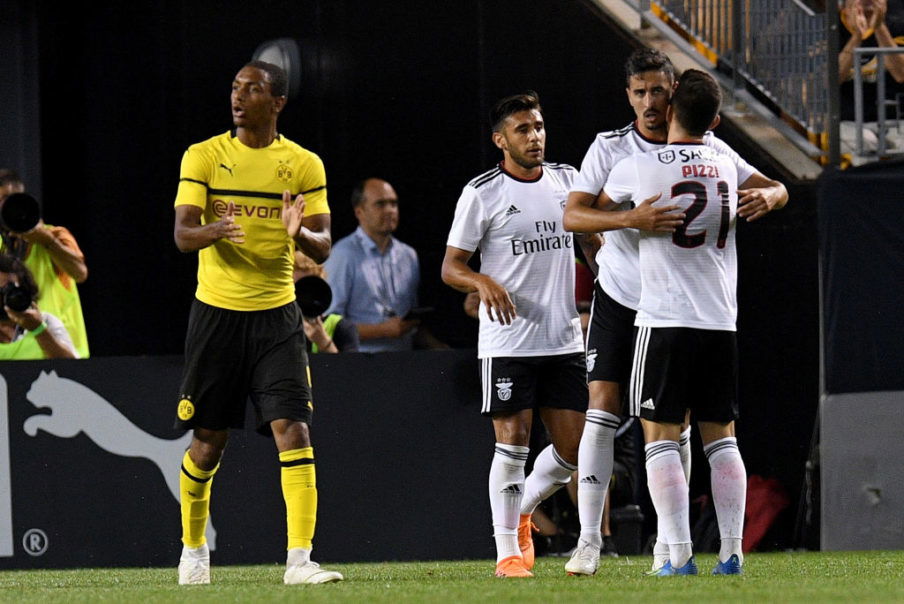 Benfica tied things up 18 minutes later when Alfa Semedo fired a shot from distance and had it blocked, but Semedo followed up his shot with a low shot that found the side netting.
Shortly before the tying goal, Dortmund manager Lucien Favre made wholesale changes, with Jadon Sancho making a cameo. He had chances to break the tie but had a handful of shot attempts blocked from in traffic inside the box.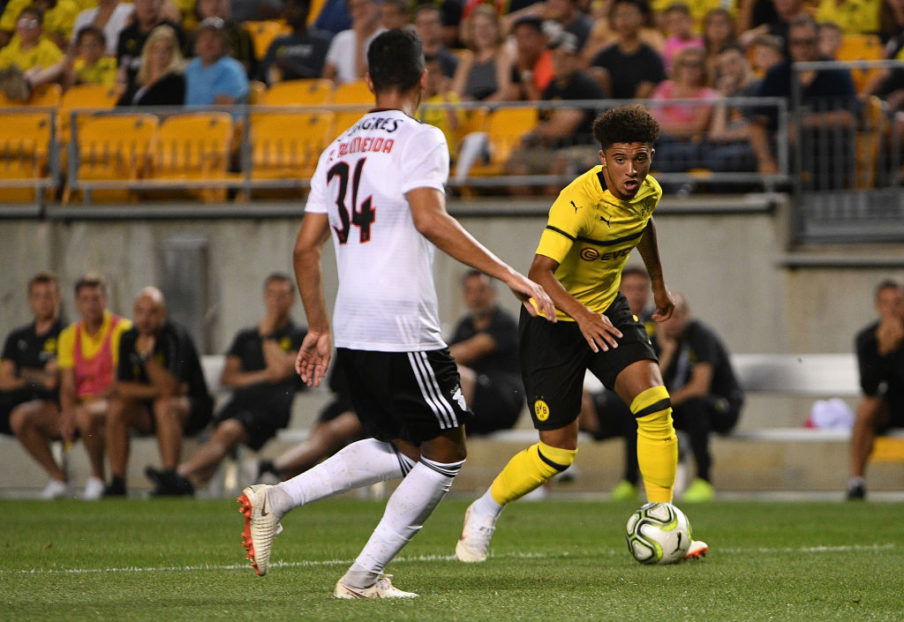 The game went directly to penalty kicks following regulation, with Dortmund shooting first. Marius Wolf and Benfica's Christián Lema traded goals before Sergio Gómez hit the post and bounced out, putting Benfica in the driver's seat.
Both teams converted each of their next two kicks from the spot — Jonas Oliveira and Facundo Ferreyra for Benfica and Dzenis Burnic and Sancho for Dortmund.
Andreas Samaris blasted a shot off the crossbar, putting the kicks at 3-3 heading into the fifth round.
Dortmund was unable to capitalise, as Alexander Isak had his shot down the middle saved before Eduardo Salvio converted from the spot to send the Benfica fans home happy.
Where were you when Pulisic came to town?
Attendance was announced at 16,171 in the 68,400 capacity stadium. Granted, the upper deck was closed and the forecast called for rain on a weekday. But, just over 16k seemed like a generous number. Even with Pulisic coming to Pittsburgh, probably the second-closest major city to his hometown, it wasn't enough to draw a comparable crowd to the last International Champions Cup match at Heinz Field, which was the 34,347 in attendance to see Manchester City take on AC Milan in 2014.
From what I heard talking to people in the press box, Benfica wanted favourable facilities to help the squad transition to playing on American soil, rather than favourable crowds. Whether or not that is true, I don't know; so don't shoot the messenger — I'm just telling you what I heard.
That said, surely it would've made more sense for Benfica to play somewhere like Boston or Southern California, where the game would have sold out anyway. Not a slight to Benfica — or Dortmund for that matter, because they did a superb job of marketing the match — but it's going to take more than the American star to get a much higher crowd out in Pittsburgh for an 8 p.m. kickoff on a day of unfavourable weather.
Quotables
"There were good things today, and in the Liverpool game as well," said Favre via a translator. "We scored two top goals. We played good one-touch football and moved the ball pretty nicely with one or two touches. We got a lot of the young players involved, as well as the substitutes, and we were still pushing to make it 3-2 at the end of the game. It was a very positive eight days (in the U.S.) and a very nice experience here."
"I liked the game in its totality," Benfica manager Rui Vitoria said (through a translator). "Yes we were losing 2-0, but from the very beginning, the team showed a good attitude. They were positive.
"Some of that enthusiasm may have made us lose our defensive clarity, that's where the two opportunities came from, but we were always proactive, looking to control the game.
"At halftime, we made some adjustments, and we became more patient. I do believe that through us winning the game in penalty kicks, there was justice done to what played out throughout the entire game."
"It was a pleasure being here in Pittsburgh," Vitoria added. "The hospitality was simply first-rate. We have nothing but the warmest things to say about the (NFL's Pittsburgh) Steelers organization at their training centre and here at Heinz Field. We had a great two days of training … and we will not forget our passage here through Pittsburgh."
Corners and throw-ins
• Dortmund has quite a manager on its hands with Favre. As someone who, admittedly, only watched Dortmund in the past for my American brethren in Pulisic, Favre's system impressed me. I didn't think Philipp could play as an out and out striker, but Favre's tactics set him up for success, and Philipp capitalized with a brace. With Michy Batshuayi likely not making his loan spell in Germany permanent, I'm intrigued to see if Favre can make Philipp stick up top.
• Mahmoud Dahoud is going to be world class someday. That's probably not exactly a hot take, but Dahoud impressed on Wednesday night (and in previous Dortmund matches), most notably on his terrorizing run down the left-hand side that led to Mario Götze's assist on Philipp's second goal. He seems to have a little bit of everything, which is certainly a good sign for any 22-year-old footballer.
• Sancho could get an opportunity to grab ahold of some increased playing time with Andre Schürrle joining Fulham on a two-year loan. That leaves Sancho and Marco Reus, who wasn't featured in the match, to battle it out for playing time on the left-hand side, along with Jacob Bruun Larsen, who impressed me as the starting left midfielder.
---